It won't be a normal wedding. There will be no bouquet, no music, no guests, no presents, no meal or honeymoon or even a wedding night. The bride and groom hope they will be allowed to hold hands for a couple of minutes before being separated again.
But none of that really matters to Anastasia Zotova and Ildar Dadin. All they really want is the stamp in their passports that means they will be able to see each other again during the next three years.
"I feel as somedbody cut off a piece of me"
Because Ildar Dadin is not just any groom. He is the first Russian activist sentenced to three years in a prison colony under a new anti-protest law aimed to punish those found guilty of breaking rules of holding rallies. And his visiting rights only apply to family members, not friends, or colleagues or even his fiancee.
A Moscow court found Dadin guilty on December 7 of "repeatedly" violating Art. 212.1 of the Criminal Code ("repeated breaches of laws regulating the organisation and conduct of gatherings, rallies, demonstrations, marches and pickets").
"This future wedding is the unique possibility to see each other," Anastasia Zotova told euronews. So she explains that unlike pretty much any other bride to be the world over, she is not worrying about what she will look like in a white dress, but instead devoting her energy and attention to paperwork and legal requirements. If everything is in order the ceremony should take place in January.
Anastasia shared a photo in her Facebook of the autorisation to the marriage by Ildar Dadin's judge. But it's not enough to gain her access to the prison
Anastasia Zotova keeps an online diary documenting her progress the "Prison diary of Ilar Dadin's financee" published on the website of the human rights organisation "Russia Sitting". It is a way of sharing with the world but also a means to help her understand and cope with her position.
"Of course Ildar told me that I'd ruin my life if I were to become part of couple with a criminal. But he was also very happy to have a support, to have a person who will send him letters and parcels. Maybe not even material things are so important, but the fact that you are not alone. Yes, you are in prison with nine inmates, but outside there is somebody to whom you are precious, who thinks about you and who fights for you and who will be there waiting for you when you get out."
Anastasia Zotova's mother does not share her daughter's perspective on the upcoming marriage and the two are no longer on speaking terms as a result. However, Anastasia hopes that one day her mother will understand.
"I have never seen such good and honest person like Ildar. I really can't live without him. I feel as somebody cut off a piece of me."
A prisoner
Over the past four years, 33-year old Dadin, a former security guard from a small town in the Moscow region, took on the role of a peaceful activist. He worked as an observer at the Russian parliamentary elections in 2011, and repeatedly participated in different anti-government street protests. He also supported LGBT rights and backed other activists who had got on the wrong side of the authorities.
Between August 2014 and January 2015 Dadin was accused of taking part in four one-person pickets on Aug 6, Aug 23, Sept 13 and Dec 5 2014 according to Russian law, individual protests do not need authorisation. The criminal case was triggered by his participation on Jan 15 2015 in action supporting anti-corruption blogger Alexei Navalny and his brother Oleg in Moscow's Manezhnaya Square. Dadin was sentenced to 15 days jail for "disobeying the lawful demands of the police".
Before addition Article 212.1 to Russia's Criminal Code in July 2014 Dadin could be sentenced to pay fine or a suspended prison term. But according to the new Article 212.1, if a court has issued two rulings on administrative offences within 180 days the law opens up a sentence of up to 5 years in a prison colony. This was the decision taken by the Basmanny Court in Moscow and which condemned Dadin to three years in prison. Remarkably, the prosecutor had been seeker a lesser punishment, of two years.
During the sentencing on December 7 Dadin's supporters could not contain their indignation. Amid cries of "Shame!" their protests sparked physical confrontations. The web-site "Grani.ru" posted a video :
Ildar Dadin leaving the tribunal after its judgment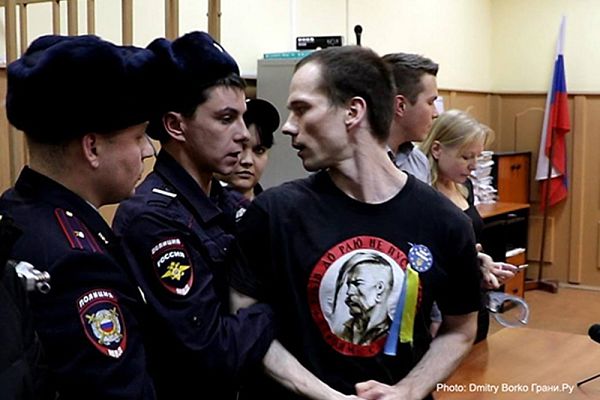 Human rights activists and Dadin's lawyers decribed article 212.1 of the Criminal Code "unconstitutional". According to them, this article imposes a double punishment for the same actions, first via administrative legislation, then criminal. "The article 212.1 is absolutely disgusting," Dadin's lawyer Xenia Kostromina told news website Sobesednik.ru.
Russia's Human Rights Center "Memorial" recognised Ildar Dadin as a "political prisoner". Amnesty International declared: "Ildar Dadin must be immediately and unconditionally released and Russia must repeal this repressive and unjust law." Germany's Human Rights Ombudsman Kristof Stresser wrote: "By the adoption and application of toughened laws the Russian constitution's guaranteed rights of freedom- freedom of opinion, freedom of association and freedom of assembly- are undermined."
#FREEDADIN
Only once in her life Anastasia Zotova has taken part in an individual protest. "I am much more a journalist than an activist. »
But now she had to become the lead player and head of a gobal campaign in support of her loved one.There are rallies and round tables, demonstrations and a campaign on social media. The hashtag #FreeDadin is gaingin ground on the Russian web.
"The main aim is to inform people about article 212.1, it is a repressive and unconstitutional article", says Zotova.
These activists from Saint Petersburg are demanding Ildar Dadin's freedom

В #СПб восемь активистов вышли на одиночные пикеты в поддержку осужденного Дадина. #Петербург#СвободуДадину#Дадинpic.twitter.com/gAxn46SDNo

— zaks.ru (@zaksru) 8 Décembre 2015
Anastasia Zotova organised a rally to support Dadin on Dec, 19

В Москве прошел митинг в защиту Ильдара Дадина | новая ХРОНИКА ТЕКУЩИХ СОБЫТИЙ https://t.co/JFUfkOxSBw

— Татьяна Матковская (@romashka281) 20 Décembre 2015
Supporting Dadin takes up all her free time. She says that with all the demands, she is unable to eat or sleep properly.
"I used to think that to have a successful career is the most important thing in life. I wanted to be a good journalist and write excellent articles. Now I realise that all of these things are not so important."
Ildar Dadin's lawyers are appealing the judgement and await an answer from the Moscow City Court, a higher court. The next step would be to appeal article 212.1 in the the Constitutional Court.
Similar criminal cases are now underway against three other Russian activists: entrepreneur Mark Halperin; mother Irina Kalmykova and pensioner Vladimir Ionov, who chose to leave Russia.
See the interview with Anastasia Zotova