Where's the snow? Alpine ski resorts count cost of a warm Christmas
Comments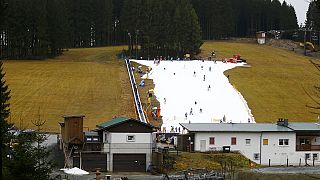 December often brings alarm that a lack of snow in the Alps will hit skiers and winter resorts' business.
With this year's warm weather some have delayed opening – and although higher resorts say they have snow, low-lying stations are suffering.
Spintzingsee in Germany only has one piste open, and is doing what it can with artificial snow.
It's so bad it plans to open the summer hiking season on Christmas Day.
"Economically, of course we lose out a bit. Because the holidays are the busiest times of the winter season for us. We still have the carnival period where many people come, so it's not too bad. We only weigh everything up at the end of the winter," said Peter Lorenz, manager of Spitzingsee's ski lifts.
Switzerland is entering its third Christmas season in a row with little or no snowfall. Again, alternative activities to skiing are being offered.
At Alpe d'Huez in the French Alps artificial snow machines have been heavily in use. "Pistes are holding up remarkably well!" said the resort's website, with 35 slopes open on December 23, out of a total of over 120.
Snow levels in the southern French Alps are as much as 80 percent down, and some resorts have delayed opening.
"We've just arrived here and we've tried two or three slopes. There is still some snow but it's true that not all are open," said one French skier.
In France the lack of snow hit at a time when holiday season reservations were already 15 percent down on last year – though bookings for the season as a whole are described as encouraging.
Everything will depend on whether or not it snows.