Traffic restrictions across northern Italy as pollution levels smash EU limits
Comments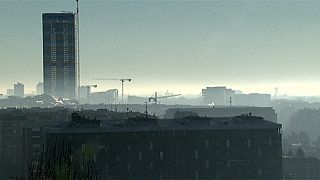 Cities across northern Italy are on high smog alert due to unseasonably mild temperatures and low rainfall.
Traffic in Rome and other major populations centres is being limited by law – odd number plates can drive on one day and even numbers the next.
Traffic police are on hand to make sure drivers comply.
Weather experts say the situation may take a while to improve.
"The forecast we have for winter is characterised by mild temperatures and scarce rainfall," says climatologist Massimiliano Pasqui.
The situation is the same in Milan, Turin and Bologne.
EU law dictates that the level of fine dust – or particulates – can only exceed 50 micro-grams per cubic metre up to 35 days a year.
Milan has broken the limit nearly a hundred times this year.
Turin is not far off with 75 violations and Rome stands at fifty-three.