Email threat forces schools closure in Los Angeles
Comments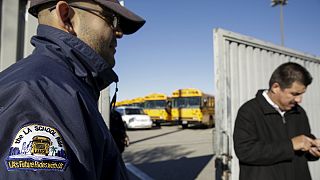 Schools out in Los Angeles. The streets empty, the classrooms of over 1000 public schools locked. But the threat sent by email which sparked the alert has forced the city authorities to defend their actions which many believe was a case of over reaction.
Federal officials said it was most likely a hoax. But the decision of authorities to send almost 700,000 pupils home was backed up by the mayor.
"We are here because our first job is to ensure the people are safe in the city. It is very easy for people to jump to conclusions and I have been around long enough to know that usually what people think in the first few hours is not necessarily how it plays out in later hours. We will continue to hope that this is nothing and that our children can be back at school tomorrow," Eric Garcetti explained.
Police officials said the email mentioned assault rifles, machine pistols and implied the use of explosives. It was, they explained, routed through Germany but probably more local in origin. All schools were searched but in New York where a carbon copy threat was received authorities didn't act.
"The email that was received in New York City which is similar and almost exactly the same as received in other locals, specifically Los Angeles, that we do not see that as a credible terrorist threat and we are investigating it as a hoax," Bill Bratton New York City Police Commissioner told reporters.
The Los Angeles police chief Charlie Beck fired back that the criticism was "irresponsible" in the aftermath of the attacks of on December 2 when 14 people were killed by a radicalised Muslim couple in San Bernardino, around 100 kilometres east of Los Angeles.