Yemen: Houthis call ceasefire for Monday ahead of peace talks in Geneva
Comments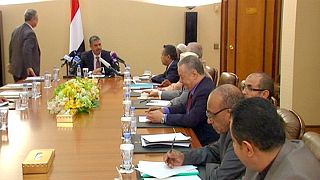 Delegations have been preparing for peace talks to end the bitter conflict in Yemen. The head of the Houthi delegation Mohammed Abdul-Salam told a live televised news conference from the Yemeni capital Sanaa a ceasefire would start on Monday.
The United Nations-backed talks are scheduled to start in Geneva on Tuesday. The Yemeni government hope the ceasefire will provide a chance to get much needed aid across the country.
"We will give attention to the humanitarian issues during the consultation and the ceasefire and aim to get food and medicines to territories across Yemen. We are going there in trust and goodwill and with seriousness to make peace this time," Abdel-Malek Al Mekhlafi, Yemeni Foreign Minister.
An eight-month civil war in Yemen has killed around 6,000 people and caused widespread damage to the economy and infrastructure.
A Saudi-led Arab coalition intervened in March to try to restore the government after it was toppled by Houthi forces.
A previous round of peace talks in Geneva in June failed.