Burundi clashes: police accused of rounding up victims before they were killed
Comments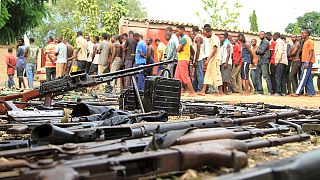 Burundi's army says almost 90 people were killed in Friday's violent clashes in the capital Bujumbura.
It was the worst outbreak of unrest since a failed coup in May.
Residents say some of the dead were killed after being rounded up by police, an allegation that is denied.
"As I was trying to close the door, I saw a bunch of policemen walking past. Then they spotted a group of men in the area and they asked them to stop," said one Nyakabiga resident.
"The men got scared and they started running and the policemen starting opening fire.
"At that time, our son was trying to close the door and when the soldiers spotted him, they just shot him there and then."
Gunmen attacked three military sites in Bujumbura, according to the army.
Almost 80 attackers are reported to have been killed and 45 others captured.
There are claims some of the dead had their hands tied behind their backs.