Venezuela's opposition win a 'super majority' in parliament
Comments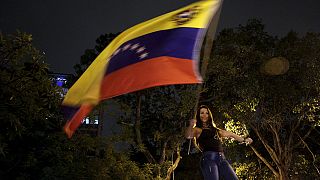 Venezuelan opposition leaders Henrique Capriles and Jesús Torrealbare have called for the release of jailed activists.
Their demand came during their first news conference following the official confirmation by the country's electoral commission that their coalition has won a two-thirds super majority in parliament.
The official results from Sunday's election has the opposition winning 112 seats out of 167. The Socialists won 55. With voter participation put at 74% this suggests a sizable proportion of the population backed change.
It's a major blow to President Nicolas Maduro whose Socialist movement has suffered its worst defeat in 17 years.The elections were widely seen as a referendum on Maduro's handling of the economy which critics say he has mismanaged and squandered the country's oil wealth.
The opposition coalition even swept away traditional bastions of "Chavismo", the movement named after founder Hugo Chavez, including the Caracas slums and the ex-president's home state Barinas.
The surge by the opposition which includes several other minor parties means they can now make sweeping changes including the freeing of political prisoners and calling a possible referendum on the leadership of President Madura.