Donald Trump slammed for Muslim 'shutdown' comments
Comments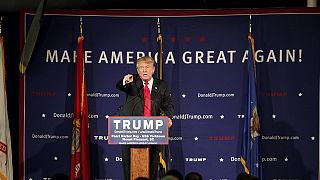 Calls for a Muslim "shutdown" from Donald Trump have been slammed around the world.
The Huffington Post calls the US presidential candidate's campaign "an ugly and dangerous force in American politics."
A headline in New Yorker magazine reads "Donald Trump Is Now America's Marine Le Pen."
Asked what prompted his statement, Trump said, "death," according to a spokeswoman cited by the New York Times.
Trump was responding to last weeks San Bernardino massacre by two people who the FBI said were radicalised Muslims when he called for "a total and complete shutdown of Muslims entering the United States until our country's representatives can figure out what the hell is going on."
His idea faced an immediate challenge to its legality and feasibility from experts.
But the US constitution protects freedom of religion.
Here's the PhillyDailyNews</a> cover just referenced on <a href="https://twitter.com/MorningEdition">MorningEditionhttps://t.co/MZ1SQro6dGpic.twitter.com/subzEW1GZI

— Steve Inskeep (@NPRinskeep) December 8, 2015
"I don't exactly agree with that. America was not founded on that kind of principle, America is a land for everyone, it's a melting pot," pointed out Jeffrey Moscher. "That's what our founding fathers saw in us so I don't think we need to be afraid of any one specific group of people or any one label that I don't think represents that Muslim religion or Islam properly at all."
"I think it is a good idea with everything that's going on in the world right now," said Sam Suarez. "It sounds harsh but reality is reality."
JeffreyGoldberg, national correspondent for The Atlantic magazine tweeted that "Donald Trump is now an actual threat to national security. He's providing jihadists ammunition for their campaign to demonize the US."
Donald Trump is now an actual threat to national security. He's providing jihadists ammunition for their campaign to demonize the US.

— Jeffrey Goldberg (@JeffreyGoldberg) December 7, 2015
Clinton aid HumaAbedin</a> in fundraising email: "I&#39;m a proud Muslim" criticizing <a href="https://twitter.com/realDonaldTrump">realDonaldTrumppic.twitter.com/HuBrjFRfog

— Jordan J Frasier (@jordanjfrasier) December 8, 2015
Donald Trump is unhinged. His "policy" proposals are not serious.

— Jeb Bush (@JebBush) December 7, 2015