Iraq calls Turkish troop presence in the north a 'hostile act' and calls on the soldiers to withdraw
Comments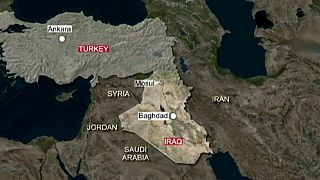 Iraq has summoned Turkey's ambassador to demand that Turkish troops immediately withdraw from the north of the country.
Baghdad described their presence as a hostile act, saying Turkey had entered without the knowledge of the Iraqi government.
Ankara has acknowledged that it has sent 150 troops to the Mosul region on Friday to replace soldiers already helping in the conflict with ISIL.
"If we let Turkish forces get away with this and don't do something then other forces will feel they can do the same – America, Saudi Arabia, Qatar and other Islamic countries," said Hakim al-Zamili, the Head of Parliament's Security and Defence Committee.
"Therefore this is an initial test and that's why parliament has to do something."
Turkey says it is training Iraqi Kurd forces who are confronting ISIL in the region, and released a number of photos showing the Turkish Prime Minister, Ahmet Davutoglu, with Peshmerga soldiers.
"Our solidarity is with Iraq," said Davutoglu. "A country suffering from a terrible experience, and we want to help to eliminate terror from that country. Those who misinterpret this routine rotation are engaging in deliberate provocation. We have trained our Iraqi brothers in the Bashiqa camp, and others, to fight against ISIL."
An Iraqi government spokesman in the north appeared to support Turkey's interpretation, saying they had an agreement to expand the Bashiqa training operation.
The Turkish government insists the camp, 30km northeast of Mosul, was set up at the city governor's request and in coordination with the Iraqi government.