Pegida 'anti-Islamisation' group in fresh bid for British backing
Comments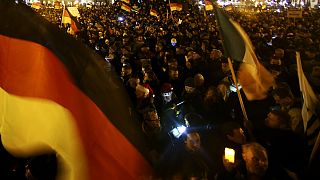 Britain is set to host fresh 'anti-Islamisation' protests after a former far-right leader helped to re-launch a Pegida offshoot in the country.
Tommy Robinson is behind a new push to establish a UK following for the movement, which stands for 'Patriotic Europeans against the Islamisation of the West'.
Pegida, which calls for stricter immigration rules particularly for Muslims, has been holding weekly demonstrations in Dresden, Germany, since October 2014.
But now the group's German founders have endorsed Pegida UK, which is being managed by Robinson, the former chief of the far-right English Defence League (EDL).
Robinson, speaking at a Pegida rally in Dresden in November, said a Europe-wide series of demonstrations opposing radical Islam would take place on February 6, 2016.
He claimed there would be marches in Austria, Belgium, Czech Republic, England, France, Germany, the Netherlands, Poland, Portugal, Slovakia, Spain and Switzerland.
"People throughout Europe and the world are inspired by you the people of Dresden," he said. "I have no hesitation in saying that I too am inspired. You have reignited the fire in my belly and you have encouraged me to step back into this fight."
Robinson quit the EDL in 2013, announcing at a press conference the group had gone from being part of the solution to becoming part of the problem.
He said at the time: "I don't hate Muslims. I have said the whole way through this I don't hate Muslims.
"From day one we have wanted to embrace everyone, all colours and all creeds."
Launching Pegida UK this week with British war veteran Tim Scott, Robinson called for five-year bans on Islamic immigration and the building of new mosques in the UK.
He told Channel 4 News he was 'slightly ashamed' of how the EDL behaved under his leadership, but that Pegida's rallies in Germany were held in a more appropriate manner.
Imran Awan, an expert in Islamophobia at Birmingham City University, said: "He [Robinson] says he's nothing against Muslims and he's rehabilitated but then if you look at his Twitter timeline it sends out a very different message.
"What Pegida are doing quite clearly is capitalising on what's happening out there at the moment (the Paris terror attacks) and Tommy Robinson is the perfect match because of his EDL background. If he gets the support we might see more offshoot (Pegida) groups in Europe and America."
Dr Awan, asked if Pegida UK will be a success, added: "It's too early to say, I think. I hope he's not successful for society's sake and its cohesion.
"It's difficult to say – he had a strong movement with the EDL and it's a matter of whether they (his supporters) move with him. If that happens then clearly there will be a problem."
Pegida UK, before its relaunch, held a demonstration in Newcastle in February 2015, but were reportedly outnumbered by protesters opposing their rally.