Federal Reserve Yellen 'looking forward' to interest rate hike
Comments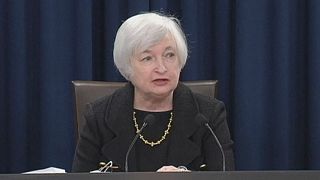 The Federal Reserve Chair Janet Yellen has said she's "looking forward" to normalising economic policy – code for a hike in US interest rates – to mark the recovery from recession.
In her prepared speech to the Economic Club of Washington, she didn't indicate whether the move should be made at the Fed's last meeting of the year later this month – but she warned of the risks of delaying.
A rate hike for the first time in nearly a decade is now seen in some quarters as all but certain.
Yellen gave a positive assessment of the economy and the labour market, saying the Fed's goals had been met.
The dollar initially strengthened in the currency markets following the release of her speech.
The Fed chair repeated that the timing of the first rate rise was not as important as that of those to follow.