France's flag reminds shaken country what it stands for
Comments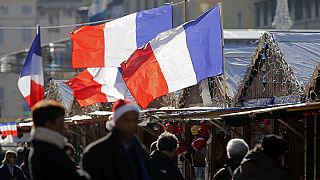 Across France, people responded to President François Hollande's call to show the flag to symbolise national unity, commemorating the Friday 13th terrorist attacks in Paris. It is a vibrant backdrop to stirred emotions.
We are French. People have died for that. Sadly, there will be more who leave us, too.
The blue, white and red is usually mostly flown on official sites — now it was unfurled from the windows of their homes.
Otherwise, for years, the French flag has been seen as a brand of the far-right. Its image has shifted back to patriotic feeling now, not nationalist.
France flies the flag for victims of Paris terror attacks https://t.co/2CTp2GugOE

— The Australian (@australian) November 27, 2015
A Parisian near Les Invalides, where the day's commemoration ceremony was held (Nov. 27th) said: "It's very present. I think all people feel something stronger, harder, in their hearts. This pulling together, visible everywhere, proves the French people are much more united than we could have imagined."
The tricolour is the symbol of the French Revolution and the Republic, of anti-tyranny, and therefore also of the French Resistance in World War Two. It manifests attachment to history and mindfulness of the future.
In France's second-largest city, Lyon, a man buying flags told euronews: "For those who unfortunately are not here anymore, it really matters to say 'we are French'. People have died for that. Sadly, there will be more who leave us, too."
French intellectuals write of France's justified pride in defending peace, democracy, humanism and international cooperation — from Bordeaux, to Lille, Strasbourg and the Côte d'Azure.
How come Facebook gave a french flag but didn't show any solidarity to other countries that had terrorist attacks? pic.twitter.com/bx9bk2ZrnY

— Raja OmarFarooq Khan (@RajaOmarFarooq) November 19, 2015