Amazon founder has success with reusable rocket
Comments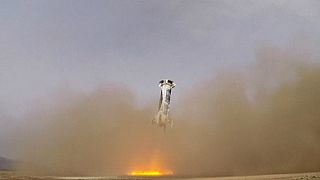 A New Shepard rocket owned by the American company Blue Origin, has lifted off and returned safely to Earth for the first time.
The flight which was suborbital and only lasted eight minutes represents a key step in the company's drive to make reusable rockets.
Blue Origin is owned by Amazon founder Jeff Bezos.
The costs involved in space travel are enormous.. a one time flight can use up the best part of 54 million euros, but reusable rockets could cut this by half.
Blue Origin are planning about two more years of test flights before it will offer rides to passengers.
The crafts are designed to carry six passengers about 100km above Earth, breaching the boundary between the atmosphere and space.
After his major success, competitor and fellow billionaire Elon Musk's rival company SpaceX congratulated Bezos on Twitter although the importance of the achievement was played down. SpaceX , which like Blue Origin, has had several failed attempts to return a launcher to earth, pointed out that the Blue Origin flight was only to a suborbital altitude, making the return less complicated.
Congrats to Jeff Bezos and the BO team for achieving VTOL on their booster

— Elon Musk (@elonmusk) November 24, 2015