Hate crimes against Muslims rise following Paris attacks
Comments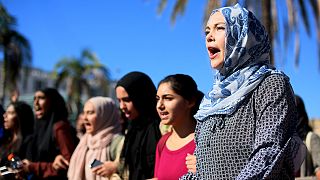 Anti-Muslim incidents including attacks on women and hateful graffiti have flared up across Britain and France in the week since Islamist militants killed 130 people in Paris.
Tell MAMA, a monitoring group said it had recorded 115 Islamophobic incidents in the UK compared with 42 for the same period.
The most frequently targeted were women dressed in traditional Islamic attire.
In France security has been tightened up around Mosques around the country ….a move appreciated by practising Muslims such as Mr. Abdelhak:.
"It makes sense to have this much security. Like I said before, it's because of generalisations. People make generalisations based on what happened, based on the acts committed by a few individuals, which were not at all committed in the name of Islam… It's normal to also protect Muslims."
A spokesperson The Collective against Islamophobia in France (CCIF), Yasser Louati said he had been inundated with reports and complaints including one Muslim woman saying she had been rammed by a shopping trolley, while another had been punched by a male stranger.
Louati said he had also received many calls from Muslims asking if it as safe to send children to school.
France's five million-strong Muslim minority is Europe's largest and makes up about eight percent of the population. Community leaders said they were expecting more incidents in coming weeks because it was feared the Paris attacks had encouraged ultra-nationalist groups to target Muslims.
#retweet: RT AJENews: Q&A: Muslim minorities are first victims of terror, says Yasser Louati … pic.twitter.com/Jfaj7n0w9j

— azharhamid (@cura_alsaban) November 23, 2015