Thousands trapped as Balkans filter migrant flow to Europe
Comments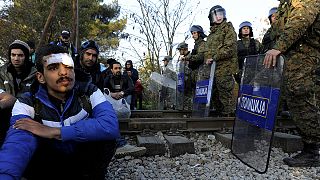 Balkan countries have begun a priority system to stem the flow of migrants to Europe.
The aim is to give priority to those fleeing conflicts instead of economic migrants.
but the move has left hundreds of people stranded on the border between Serbia and Croatia.
Others are in limbo between Macedonia and Greece after Skopje closed off access to all migrants regardless of nationality until a deal is reach with Athens on how to filter them.
What has become the greatest migration of people in Europe since World War Two has deeply divided the EU and fuelled anti-immigration sentiment across the continent.
Croatia's Interior Minister says the country's been forced to prevent "economic migrants" from entering as a reciprocal measure.
"We've received a request from Slovenia which had a group of citizens from countries that should be discouraged for migration, according to the Juncker Plan, they cannot get international protection – people from Morocco, Bangladesh, Sri Lanka, Algiers, Liberia, Sudan, Congo and Pakistan. We denied that request," said Ranko Ostojic.
Syrians, Iraqis and Afghans make up the majority of the hundreds of thousands of migrants who've trekked across the Balkans this year in the hope of reaching western and northern Europe. However, others from Iran, Libya and Lebanon are also still crossing.