Include developing countries, G20 is urged
Comments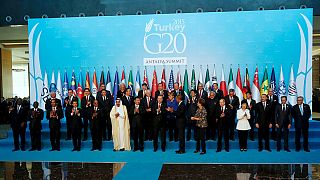 Although terrorism shot up the agenda at the G20, the world's largest economies meeting in Turkey also had to tackle other global challenges such as climate change – and the fragile recovery in the face of the slowdown in China and other emerging markets.
Chinese President Xi Jinping told G20 leaders that the world urgently needed to find new sources of economic growth.
China and Mexico, both developing countries and emerging-market economies, used the summit to push for enhanced ties and increased global influence.
Despite the financial crisis, Mexico's GDP has soared in recent years.
"The target has been for the G20 countries to try to increase growth by two percent that will only happen if all the countries really get together and try to define economic policy. One of the elements they have been basically assuring is that you need structural reforms at the country level that will make a difference in terms of economic policies," Mexico's Economy Minister Ildefonso Guajardo Villareal told euronews.
Enhancing resilience, buttressing sustainability and development were all listed by the host country Turkey as top G20 priorities.
"This year due to the Turkish presidency's priorities in investment, implementation and inclusion, other topics were broached by the leaders: specifically the topic of inclusion, which has to do with the way the most important economies in the world are going to implement strategies designed to include young people, women, emergent economies, in a much more productive dynamic in the world," said Mexico's Foreign Minister Claudia Ruiz Massieu.
Turkey vowed to work to make the G20 represent and benefit the global community.
G20 Leaders' Summit in Antalya Ends https://t.co/QaTjjxL9jtG20Turkey2015</a> <a href="https://t.co/3XRkAELEj7">pic.twitter.com/3XRkAELEj7</a></p>&mdash; Turkish Presidency (trpresidency) November 16, 2015