Serbia announces five million aid package for Srebrenica
Comments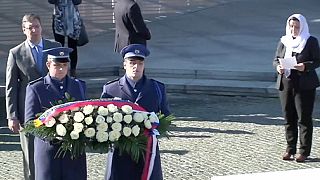 Serbia is to donate five million euros to help rejuvenate the eastern Bosnian town of Srebrenica in a bid to atone for war atrocities.
Some 8,000 Muslim men and boys were slaughtered there by Belgrade-backed Bosnian Serb forces in July 1995.
Serbian Prime Minister Aleksandr Vucic made the announcement during a visit to a joint cemetery to pay tribute to the victims.
He said he hoped the money would help support Srebrenica's development and rebuild a bridge of cooperation between Muslims Bosniaks and Bosnian Serbs.
"As far as my opinion about what happened in Srebrenica (in 1995) is concerned I never shy away from voicing it publicly, the way I bow my head in front of Srebrenica victims shows the respect I have for the victims."
His trip highlights a remarkable reversal of fortune. Four months ago protesters chased him out of the town when he tried to attend a ceremony marking the 20th anniversary of the wartime atrocity