Millions fall silent to mark Armistice Day
Comments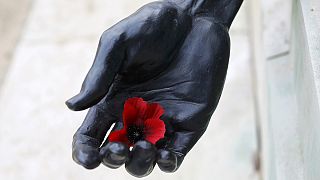 Millions of people across Europe and the world have taken part in Armistice Day commemorations.
In the French capital, President Francois Hollande led the ceremony to honour the victims of World War One and the moment the fighting stopped on the 11th hour of the 11th day of the 11th month.
It marked the end of four years of bloody conflict which left an estimated ten million soldiers dead.
As President Hollande lay a wrath at the Tomb of the Unknown Soldier, smaller
ceremonies were held across France to pay tribute.
There were similar scenes in London where a bugler played the Last Post before thousands marked the hour when the armistice was signed. After Big Ben chimed, crowds of people, many of them wearing symbolic poppies, stood in silence in the field of Remembrance at nearby Westminster Abbey.
As the Queen led commemorations on Remembrance Sunday, she spent the day privately at Buckingham Palace with Royal Family members leaving Princess Anne to lay a wreath at the National Memorial Arboretum in Staffordshire.