Volkswagen shares fall over 'false' CO2 and fuel readings
Comments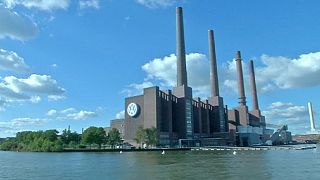 Another three billion euros have been wiped off Volkswagen's market value after the company admitted the fuel consumption and CO2 emissions of some cars had been understated.
Shares in Europe's biggest carmaker dropped by more than eight percent on the Frankfurt Stock Exchange on Wednesday morning.
VW says up to 800,000 cars in Europe could be affected. The admissions mean cars could be more costly to drive and polluting than buyers had been led to believe.
It affects mainly diesel but also some petrol models.
The revelations come on top of the separate scandal where so-called "defeat device" software was installed in diesel engines to cheat tests for emissions of nitrogen oxides.
Information on the Diesel-Issue can be found here: https://t.co/PzVwwgihaR

— Volkswagen News (@vwpress_en) 3 Novembre 2015
Volkswagen has denied new claims by US regulators that more cars with larger diesel engines had been equipped to cheat emissions tests. It's thought many of the group's Porsche and Audi models could be affected.
Here's what happened to Volkswagen when trading opened in Frankfurt https://t.co/n3qvxW7mdrpic.twitter.com/om9zLqAKl4

— Bloomberg Business (@business) November 4, 2015