Portugal: The Baron 4 and The Jay Vons set to storm Barreiro Rocks 2015
Comments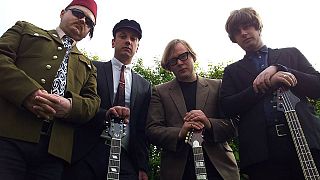 Londoners The Baron 4, born out of the ashes of the garage beat band Thee Vicars, and New Yorkers The Jay Vons, with members of the Reigning Sound, will play at this year's edition of Barreiro Rocks. The small urban festival in Portugal was tipped in Spain as the "best garage rock festival on the Iberian Peninsula". It is nominated this year in the "Best Overseas Festival" category at the UK Festival Awards. Winners will be announced on November 26, 2015.
Barreiro Rocks is celebrating its 15th anniversary. This is the festival where, in 2010, the Spin favourite Ty Segall (US) debuted on European soil. From the UK, bands like Billy Childish & the Buff Medways, Flaming Stars, Gallon Drunk or Thee Vicars have already shined in Barreiro, a city lying on the shore of the Tagus River, just a 20-minute boat ride from downtown Lisbon.
Japanese band The Routes will headline the first day of the three-day festival. Day two will see The Parkinsons take to the stage, a project born in London's underground rock'n'roll scene, which has made a name for itself with explosive gigs. The rest of the line-up includes new acts from Spain (The Government) and Portugal (Cave Story and Postcards From Wonderland).
Certain acts in the line-up deserve close attention. Fast Eddie Nelson, for example, a blues man from Barreiro, who carries the muddy banks of the Mississipi in his deep voice. Look out also for D3ö, a band from Coimbra, one of the rock'n'roll bases in Portugal, a country with 900 years of history and over half of a millenium exporting culture to the world.
Barreiro Rocks will take place between December 4 and 6. Three-day tickets are on sale on the Web for 30 euros. Daily tickets will be available at the festival entrance once it starts: 15 euros on December 4; 20 euros on December 5; and 10 euros on December 6. Beer is guaranteed to be plentiful at potentially dangerously-low prices – be careful and drink wisely!
Line-up and order of play