US ambassador sends alarm bell warning to Hungary
Comments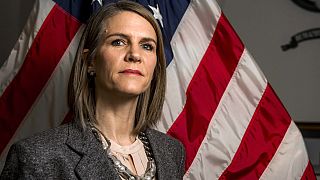 Colleen Bell, the US ambassador to Hungary, spoke of her country's concerns – corruption, decline of freedom of the press and xenophobic characterisations of refugees – during her speech on Wednesday (October 28) at the Corvinus University in Budapest.
The ambassador began with positive remarks, such as Hungary's cooperation in the "Dragon Crossing" joint exercise and the country's efforts to support Ukraine. Bell added that Hungary is a great partner in the fields of law enforcement and counter terrorism. She said the US is committed to supporting Hungary's efforts to increase its energy security. But she warned that "no nation should be kept dangerously dependent on any single source for its energy needs" while admitting that she understands that Russia is an important energy supplier.
On economic relations, Bell pointed out that some American investors said significant obstacles to investment remain. She reminded that companies would invest where "there is transparency and predictability, where there are free, fair and transparent market conditions".
"Your bravery as a people was never defined by the attributes of your adversaries, but by your own strengths and determination".
The ambassador said corruption in Hungary is a serious concern, a top one for the average Hungarian. Bell's recipe against corruption is reforming government procurement systems and building trust with citizens by allowing open access to information that directly impacts them.
The US government has concerns about the state of checks and balances and democratic institutions in Hungary. She said increasing centralisation of power leads to a situation where big decisions (having an impact on the country for generations) could be taken without any possibility for the people affected to share their opinion and views about them.
"An independent civil society sector is a cornerstone of a functioning democracy."
Bell talked about the government's crackdown on the freedom of several NGOs which operate in the country. She recalled that government officials openly accused several human rights watchdogs and NGOs of supporting the opposition and being foreign agents. She added that the Hungarian justice system provided some protection to the organisations from the effects of those investigations, "which casts a long shadow on Hungary's reputation in the international community".
The ambassador continued with concerns about an independent judiciary system, in particular in the Hungarian Constitutional Courts. Bell talked about a decline in freedom of the press in Hungary.
She said Hungary was not a place where journalists were jailed or tortured. But spoke of her concerns of concentrated media ownership and pronounced subsidies to state media.
"These subsidies have the potential to profoundly distort the media business landscape, raising the barrier for any new voices to enter the media market and driving smaller outlets to the brink of insolvency."
The Media Council, she added, which should stand up and be looking out for the independent press is stuffed to the brim with appointees from just one political party.
When speaking about migration, Bell pointed out the every nation has the right to protect its borders, but also has a fundamental obligation to help refugee populations seeking safety. She added that "words of intolerance and xenophobic characterisations of refugees – as invaders and antagonists have no role in our efforts to find a solution". She finds the choice of some to use this rhetoric puzzling, because she thinks Hungary is better than this.
"The Hungary I know is strong enough to see possibilities, not imply threats. The Hungarian nation's sense of itself is not so fragile that it can only be defined by its enemies or by threats."
Bell thinks that Hungary should be strong enough to find or help to find a solution to this crisis in the European Union.