UN fails for 24th time to get unanimous rejection of America's Cuban embargo
Comments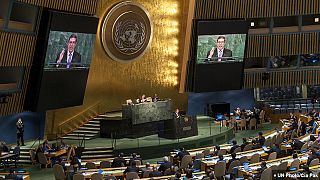 There has been some surprise that despite the warming in US-Cuban relations, the annual Cuban attempt to get the US sanctions on the island condemned at the UN General Assembly failed.
Only the US and Israel voted against the non-binding motion
This was the 24th time the Cubans had attempted to get the whole assembly to vote against the embargo.
"The human costs it has caused are inestimable. Seventy-seven percent of all Cubans have been suffering from the blockade since the day they were born," said Cuba's Foreign Minister Bruno Rodríguez Parrilla.
It has also been estimated the total cost of the embargo to Cuba is well over 100 billion dollars.
"Although normalization will be a long and complex road, we've made considerable progress. We regret therefore that the government of Cuba has chosen to proceed with its annual resolution. The text falls short of reflecting the significant steps that have been taken and the spirit of engagement the President Obama has championed," said the US Deputy Ambassador to the UN Ronald Godard.
In Cuba people's reactions have been incomprehension and frustration, especially as full diplomatic relations are being restored.
"It's something that shouldn't exist anymore, because we are in the 21st century, and those absurd wars should end," said a young female student.
Plenty of hoardings bearing slogans still dot the island, like "The embargo is the biggest genocide in history". But their days are surely numbered, even if the feelings behind them may last a little longer.