Russia bombs more Syria targets amid a renewed diplomatic push
Comments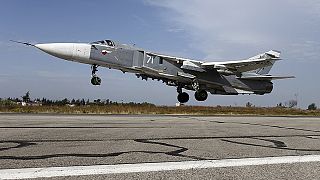 Russian war planes have kept up their air strikes on Syrian targets as diplomatic efforts have been going on behind the scenes to find a way to end the conflict.
Russia's defence ministry says that in the last three days its jets have struck 285 ISIL and Nusra Front terrorist sites including two metal hangars housing a major ammunition store in the suburbs of Damascus.
US-led coalition analysis of the the data claims 80 percent of Russia's declared targets have been in areas not held by Islamist militants.
The US accuses Moscow of trying to keep its long-time ally Assad in power and secure its interests, including a Naval facility in Latakia.
On Monday Syria's President Bashar al-Assad received a diplomatic visit from Oman's foreign minister, Yusuf Bin Alawi who is known to be an experienced mediator.
At the same time Washington says its Secretary of State John Kerry and Russian counterpart Sergei Lavrov discussed Syria over the phone, while a White House spokesman added there could be further talks on a possible political transition at the end of the week.
The US has also acknowledged that Assad ally Iran would need to be involved in any transition negotiations.