Russia's Transaero airline grounded over safety fears
Comments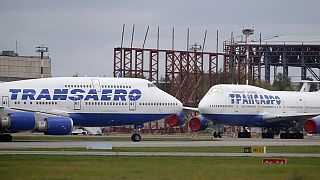 Reports from Russia say the country's second biggest airline, Transaero, has been grounded because of safety concerns.
The transport minister has been quoted as saying the decision was taken by the Russian Federal Air Transport Agency.
A link has been made to the airline's catastrophic financial situation: it's said to be in such bad shape that passenger safety could not be guaranteed if flights continued.
The Russian news agency TASS says Transaero filed for bankruptcy earlier this month with debts of $3.9 billion (3.5 billion euros).
Last month Aeroflot reportedly decided against buying a controlling stake in the airline for one euro.