Poland's Law and Justice (PiS) claims election victory
Comments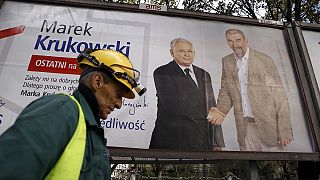 Poland's eurosceptic Law and Justice party have claimed victory after Sunday's election.
The latest exit poll by IPSOS gave the party 37.7 percent of the vote translating to 232 seats in the Polish 460-seat lower house of parliament.
Law and Justice will need to wait for the final result before deciding whether to seek a formal political partner.
"I think that democracy triumphed, that the turnout was so high, 51 percent," said Warsaw resident Eryk Gagala. "And in a democracy change happens once in a while. Now there is a change for PiS [Law and Justice] and let's hope that those who didn't vote for PiS are happy."
"[The election] was pretty predictable, we expected PiS to win, I didn't think it would have a ruling majority. The biggest surprise for me is that [far-right candidate from Coalition for the Renewal of the Republic – Liberty and Hope, Janusz] Korwin[-Mikke] will not enter [parliament]. The other results are in line with the polls before the election," said Bartek Jarosz, also from Warsaw.
The woman destined to become Prime Minister is Beata Szydlo.
Law and Justice looks set to return to power for the first time in eight years. The biggest victory in terms of seats by a single party since 1989.
The result is a stinging reverse for Civic Platform which, despite delivering an economy which has grown by 50 percent during its tenure, was seen as not doing enough for the poor.
Poland's swing to the right risks putting the country on a collision course with some EU allies, in particular regarding its objection to the relocation of migrants.