EU's long march towards refugee solution continues in Brussels
Comments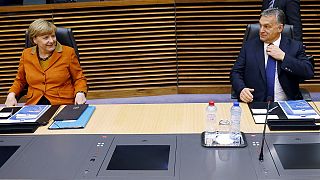 The EU summit of central and eastern European states grinds on in Brussels as the participants try to get agreement on dealing with the refugee crisis. It is proving once again to be difficult.
Only two weeks ago there was a full summit, but with cracks widening in the EU fabric over the issue, the accent has shifted from solidarity to regulating the flow of people coming in.
"We are all duty-bound by the Geneva Conventions. We have standards for human dignity and that's why this is about relief and about how to share these tasks on the so-called Balkan route. Of course we will also talk about further developing registration centres on the outer borders. Better protection of the EU borders is an important task as we know," said Merkel.
Hungary's Viktor Orban is here only as an observer, as his country has unilaterally sealed itself off. He thinks the EU should follow his lead.
"Members of the European Union, especially the members of the Shengen treaty are not able or are not ready to keep their word. So we still have international agreements, everybody should keep them. My number one suggestion was that we should go down to the south to defend the border of Greece if they are not able to do this, but nobody listened to us," he claimed.
One proposal being discussed is 400 extra border guards on the EU's western Balkan borders.
"According to diplomatic sources, today's summit was Angela Merkel's idea. For many here in Brussels, the German Chancellor and the President of EU Commission Jean Claude Juncker wanted to send a clear message to the countries of central and southeastern Europe to stop unilateral actions and start cooperating between them," says euronews' Efi Koutsokosta.