Unemployment in Spain down to lowest level since 2011
Comments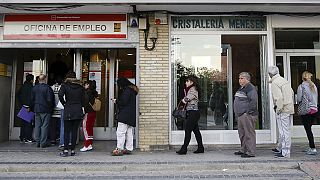 Spain's unemployment rate has fallen to its lowest level for over four years.
Figures from the country's National Statistics Institute showed that it fell to 21.18 percent in the third quarter – a sharper drop than many economists had expected.
That still means that more than one in five is without a job, a total of 4.85 million.
And the pace of job creation some signs of slowing between July and September.
The overall trend shows that from a high of 26 percent, the jobless rate has now fallen to a lower level than the 22.8 percent when the prime minister came to power – a potential boon for his conservatives two months before a general election.
"These unemployment data are very good. But most important is to carry on at this cruising speed. I've said that, in the next parliament, in four years we can create 500,000 posts each year: two million by the end. And these data from today allow us to say it's perfectly possible," Mariano Rajoy told reporters.
Although employment has picked up, many are in less well-paid, less secure jobs.
Damaged by corruption scandals, the ruling People's Party is struggling to win back voters after forcing through deep spending cuts; new anti-austerity, anti-mainstream parties still perform well in the polls.
Ranks of jobless in Spain fall below five-million mark for first time in five years https://t.co/KjERbk0JRvpic.twitter.com/bKyZ1drTx3

— El País in English (@elpaisinenglish) October 22, 2015