Boko Haram: US sends troops to Cameroon
Comments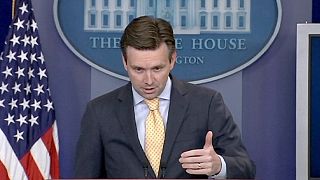 The US is to send 300 of its troops to Cameroon to help counter militant Islamists Boko Haram.
The troops are to provide intelligence to the multi West African force already in the region.
They are not, as a Washington spokesman said, there to do any actual fighting.
"Just to be clear about the U.S. military personnel that were deployed to Cameroon, they are armed, but they are armed for the purposes of force protection and providing for their own security. They will not be there in a combat role," said White House Press Secretary Josh Earnest.
The United States has no combat troops in Africa.
The African-Union backed joint military task force (made up of soldiers from Cameroon, Chad Niger and Nigeria)has had some success, but the jihadists who have linked themselves with ISIL have shown themselves resilient in the face of military operations.
Although Boko Haram are based in Nigeria, Cameroon has become a target for the militants since backing the Nigerian military in its fight against the group.
On Sunday, two female suicide bombers killed nine people and injured 29 in the town of Mora in Cameroon's Far North region, employing a tactic increasingly favoured by Boko Haram.
Boko Haram
Boko Haram date back to 2002 when their initial intention was to oppose Western -style education. In 2009 they launched military operations and joined ISIL and now want to carve out an Islamist caliphate.
Besides "killing thousands"öhttp://www.euronews.com/2015/07/07/nigeria-25-killed-in-suspected-boko-haram-suicide-blast/ of people, one of the group's most notorious acts which attracted international condemnation was the 2014 abduction of at least 200 girls from a school in north-east Nigeria.
.