Hamas warns of a new Intifada after upsurge of attacks on Israelis
Comments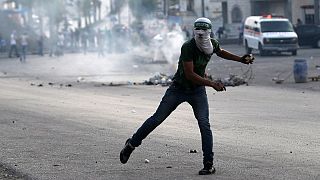 A Palestinian rammed his car into a bus stop before stabbing pedestrians on a street in Jerusalem on Tuesday. It was just one of several apparently random attacks in the city and across central Israel on a day that left three Israelis dead and scores injured .
Minutes earlier two Palestinians had shot and stabbed passengers on a bus – one of the assailants was killed the other capture.
Calling it a 'Day of Rage' some among the Islamist militant Hamas group described its as a new intifada or uprising.
Hamas member Sam Abu Zuri speaking from Gaza said:
"Hamas praises the heroic acts in the West Bank and Jerusalem and confirms that the increase in these operations is evidence that this Intifada cannot be stopped, it is the Intifada of Jerusalem. It is a strong message to the Israeli occupation because of its crimes in Al-Aqsa mosque."
Stabbings and shootings
Palestinians have organised two uprisings against Israeli occupation – one in the 1980s and the other in the 2000s.
Over the last two weeks near daily stabbings and shootings by Palestinians have left dozens of Israelis dead and wounded.. Several attackers and at least 17 other Palestinians have also been killed.
Later on Tuesday there were clashes between Palestinian youths and Israeli police in Bethlehem. At least two Palestinians were among Tuesday's death tally.
Responding to the upsurge of violence the Israeli government is planning on sealing off Palestinian districts in East Jerusalem – home of many of the attackers.
The unrest erupted last month over a row about access at a Jerusalem Holy site known as Temple Mount to Jews and the Al-Aqsa mosque to Muslims. IT's been fuelled by rumours that Israel wants to alter a long-standing religious arrangement governing visits and use of the site.