German investor confidence nosedives after VW emissions scandal
Comments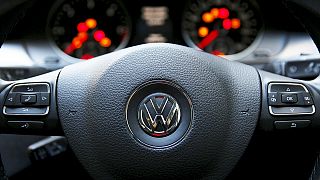 The revelation that millions of Volkswagen diesel cars had been polluting the air far more than had been claimed has helped send German investor confidence plunging.
Weakness in emerging markets is also blamed for the fall.
The monthly survey by the ZEW Centre for European Economic Research showed economic sentiment slid to 1.9 in October from 12.1 last month – far below what was forecast and the seventh consecutive decline.
A separate index tracking current conditions also dropped more than expected.
VW's admission that it fixed emissions tests in 11 million of its diesel-engine cars wiped tens of billions of the company's market value.
ZEW's president says the scandal and sluggish growth in emerging markets are dampening the economic outlook for Germany.
But he doesn't believe the country is in danger of falling back into recession.
Volkswagen has announced that it is cutting its investment programme by a billion euros a year as it deals with the fallout from the emissions scandal.