More stabbings and shootings as Palestinian-Israeli violence escalates
Comments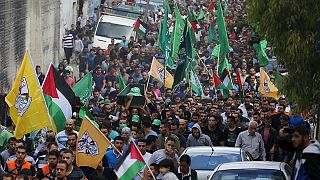 Three Palestinians have been shot dead by Israeli security forces in Jerusalem amid a fresh wave of stabbing attacks.
Those killed include a 16-year-old Palestinian who police say wounded two ultra-Orthodox Jewish men
Separately, three Israeli police officers were stabbed. One is seriously injured.
Stabbing attack at Damascus Gate in Jerusalem, 3 policemen wounded http://t.co/U87Zi2uPbY#ArabIsraeliConflictpic.twitter.com/zW9YWqquva

— The Jerusalem Post (@Jerusalem_Post) October 10, 2015
These are the latest episodes in a wave of violence triggered by a row over access to the al-Aqsa mosque compound on a site revered by both Palestinians and Jews.
It has seen almost daily Palestinian stabbing attacks on Israelis – four of whom have died. On Friday, a knife-wielding Israeli wounded four Arabs in an apparent revenge attack.
Palestinians have been burying their dead, with some 20 killed in the upsurge of violence in Israel, the West Bank and in Gaza where Israeli soldiers shot dead seven Palestinians on Friday near the border fence.
Among those being laid to rest on Saturday was a Palestinian who Israeli police said had opened fire at them overnight at the Shuafat refugee camp in East Jerusalem. Hamas said the man was one of its members.
Amid the rising tension, the Israeli military has reported rocket fire from Gaza militants towards Israel. No casualties or damage are reported.
Both Israeli Prime Minister Benjamin Netanyahu and Palestinian President Mahmoud Abbas have called for calm and Palestinian police continue to coordinate with Israeli security forces to try to restore order, but there are few signs of the violence dying down.