Extreme poverty likely to drop below 10% - World Bank
Comments
By
Euronews
with
WORLD BANK, REUTERS, AFP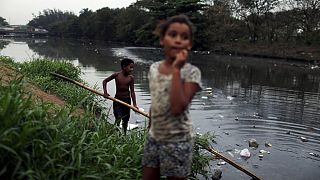 Fewer than 10% of the world's population will live in extreme poverty by the end of 2015,according to the World Bank. The news was announced on Sunday after the organisation revised its poverty benchmark.
"This is the best story in the world today. These projections show us that we are the first generation in human history that can end extreme poverty," World Bank President Jim Yong Kim said in a press release.
Extreme poverty was defined by the World Bank as a family living on an income of less than $1.25 a day. These families suffer chronic hunger and lack of safe drinking water and sanitation, health care, children's education and rudimentary shelter.
However, the Bank said it set the new poverty line at $1.90, to reflect the differences in cost of living across countries. The change was calculated as an adjustment in purchasing power parity exchange rates (PPP). Francisco Ferreira Senior Adviser in the World Bank's Development Research Group explains:
"If prices in poor countries are lower, their currencies are stronger in purchasing power terms: the Kenyan shilling or the Indian rupee buy more (in their respective countries) than we used to think, relative to what one dollar buys in the United States."
He goes on to explain that, "$1.90 in 2011 buys approximately the same things as $1.25 did in 2005 in poor countries, which is why poverty has changed very little. That the value is higher in US dollar terms is merely a reflection of a 'weaker' dollar in PPP terms!"
Using the new benchmark the organisation calculated that 702 million people or 9.6% of the population will be living in extreme poverty in 2015, in comparison to 902 million or 12.8% of the population in 2012.
Global poor estimated at 9.6% of population in 2015 down from 12.8% in 2012 http://t.co/9K3L3L2lWHpic.twitter.com/GjxGoJX4yA

— World Bank (@WorldBank) October 4, 2015
On track to eradicate extreme poverty
Strong economic growth in emerging markets appears to be behind the apparent drop in poverty. Investments in education, health and social safety nets have also contributed to the figures. But the headline-grabbing percentages disguise regional differences.
The report notes that poverty remains concentrated in Sub-Saharan Africa and South Asia. In 1990, East Asia accounted for half of the world's poor, while 15% resided in Sub-Saharan Africa. By 2015, the figure has been inverted. So while overall global poverty is in decline, it is becoming more entrenched in conflict-ridden zones as well as countries whose economy is overly dependent on commodity exports.
The report added that the global growth slowdown, volatile financial markets and high youth unemployment could all impact the UN target to end poverty by 2030. The global body adopted a new set of development goals this year.
Another issue highlighted was pollution. The report stated that "urban air pollution emerged as a leading cause of ill-health in developing countries-more than triple the impact of malaria, HIV and tuberculosis combined."
.Worldbank</a>: Est. 702M ppl living in <a href="https://twitter.com/hashtag/extremepoverty?src=hash">#extremepoverty</a> in 2015, down from 902M in 2012: <a href="http://t.co/gCZz8HkFIr">http://t.co/gCZz8HkFIr</a> <a href="http://t.co/y6r1gVlciH">pic.twitter.com/y6r1gVlciH</a></p>&mdash; World Bank (WorldBank) October 5, 2015