Iranian troops set to go to Syria - reports
Comments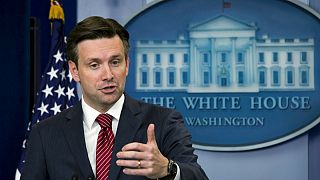 In the US the White House has said it cannot confirm reports hundreds of Iranian troops have arrived in Syria. It's claimed the soldiers are set to join government forces and Lebanese Hezbollah allies to launch a ground offensive backed by Russian air strikes.
"If true, and the reports are coming from a variety of sources, it would be a rather apt and even powerful illustration of how Russia military intervention inside of Syria, focused on an indiscriminate bombing of Syrian opposition targets has worsened the sectarian conflict there," White House Press Secretary Josh Earnest told reporters.
To date Iranian troops have not been involved on the ground support – it's believed has come in the form of military advisors.
Now reports from Lebanese sources suggest the troops have gone to Syria with equipment and weapons and would be deployed to recapture territory lost by President Bashar al-Assad's government to rebels with the Idlib and Hama countryside mentioned in those reports.