Lesbos feels the strain of refugees and fears they are here to stay
Comments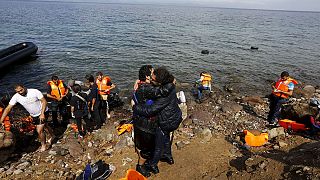 On the Greek island of Lesbos the refugees just keep coming, yet despite the fact there is a constant flow out to other European destinations, there is a permanent population of about 7,000 at any one time.
Greece and Italy will be hosts to "hotspots", as decided in Brussels, where refugees will stay to be processed and either accepted or deported, with EU-funded centres due to be set up by November.
However they appear to be in no hurry to start setting them up, as there is political resistance to refugees becoming a permanent presence.
Lesbos is one of them, but the island is under tremendous strain, and the weather is on the turn, when things will get worse.
For an already crisis-hit economy the extra mouths to feed are a big ask, and EU aid cannot arrive quickly enough.
"We can't afford all this crowd, all these people, from all these countries, they don't have anything to eat, they don't have anything to drink, they have nowhere to sleep and for now it's good because it's summer, but it will be raining in a couple of days, it will be cold. Where are they going to stay?" said one restaurant manager.
Some restaurants have been giving away simple free meals, but not all. Some are showing enormous generosity, others are just walking past the tents crowding onto pavements and squares.