Queen Elizabeth II: Britain's longest-reigning monarch
Comments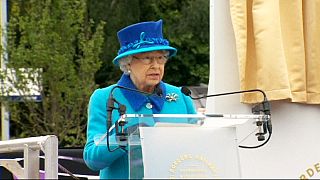 At the age of 89, after 63 years, seven months and two on the throne, Queen Elizabeth II has become the longest-reigning British monarch.
She beats the record previously set by her great, great grandmother, Queen Victoria.
Queen Elizabeth is officially the UK's longest-reigning monarch. A look back: http://t.co/uTbeFRkeUVpic.twitter.com/jTqVivnfxV

— Reuters Live (@ReutersLive) September 9, 2015
"Inevitably, a long life can pass by many milestones, my own is no exception," she said. "But I thank you all and the many others at home and overseas, for your touching messages of great kindness."
The rare public speech was given as the Queen officially opened the Borders Railway in Scotland.
Tributes have poured in from far and wide for the Queen, who is also head of state of 15 Commonwealth realms.
British Prime Minister, David Cameron, praised the monarch's "selfless sense of service."
His Australian counterpart, Tony Abbott, added:
"For Australia, for the United Kingdom and for the rest of the Commonwealth, the Queen has been a beacon of stability for more than six decades."
Events have taken place around the UK to mark the milestone, although the Queen herself said she didn't want to make a fuss.
While acknowledging the historic nature of the occasion, palace aides have emphasised it's not one the
Queen would personally celebrate as the longevity of her reign owes much to the premature death of her father, King George VI.
Queen Elizabeth II: how Britain has changed during her record reign