Lufthansa pilots ordered back to work as strike ruled illegal
Comments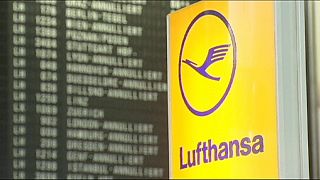 Lufthansa pilots have been ordered to end their strike and return to work.
The action has led to the cancellation of around 1,000 flights in an increasingly bitter row over cost cuts and pay.
But a labour court in the federal state of Hesse ruled the stoppage illegal as grievances over Lufthansa's plans for low-cost expansion were not part of the union's mandate in talks.
The ruling by the court came too late to revise Wednesday's flight schedules.
Markus Wahl, spokesman for the Vereinigung Cockpit (VC) union said it may not mean the end of the strikes: "We have called on our members to be available to fly again at any moment. Lufthansa however must know that despite this verdict, this is not how personnel problems are solved."
Lufthansa has welcomed the decision and repeated that it must cut costs in order to compete with budget carriers.