Watch the Euronews panel at the 25th Economic Forum in Krynica, Poland
Comments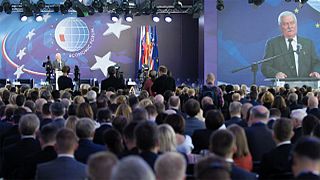 *If the video doesn't play, click here to watch the discussion from the 25th Economic Forum on YouTube *
The themes of the panel were a more resilient Europe and strategies for the future of the continent.
The event is took place between the 8th and 10th of September in Krynica-Zdrój, Poland
The Economic Forum in Krynica brings together political, economic and social leaders who share their ideas every year in a friendly atmosphere. The key figures include presidents, prime ministers, ministers, EU commissioners, members of parliament and presidents of the biggest global corporations.
Among the representatives of Central and Eastern Europe who attended the conference in Krynica were the President of the Czech Republic Vaclav Havel, Presidents of Lithuania Dalia Grybauskaite, Vytautas Landsbergis, Valdas Adamkus, Algirdas Brazauskas, Presidents of Croatia Stipe Mesic and Ivo Josipovic, President of Slovenia Milan Kucan, President of Serbia Boris Tadiç, Presidents of Ukraine Viktor Yushchenko and Petro Poroshenko, President of Estonia Toomas Hendrik Ilves, President of Latvia Vaira Vika-Freiberga, Prime Ministers of the Czech Republic Mirek Topolanek and Jan Fisher, Prime Ministers of Slovakia Mikulas Dzurinda and Robert Fico, Prime Ministers of Hungary Viktor Orban and Gordon Bainai, Prime Minister of Ukraine Arseniy Yatsenyuk, Prime Minister of Latvia Valdis Dombrovskis. Each year, Krynica becomes a meeting place for MPs and politicians of nearly all European and Central Asian countries