Tibetan autonomy reaches 50, wishes unresolved
Comments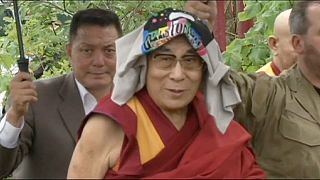 Beijing is celebrating 50 years since it made Tibet an autonomous region.
This follows a couple of months after long-exiled Tibetan spiritual leader the Dalai Lama turned 80, and was feted in Glastonbury, England, in June.
He has contested China's iron rule in Tibet since 1950.
He calls for a middle way for Tibet, or what he calls "meaningful autonomy". Beijing, however, considers his appeal as a bid for independence.
Tibet Autonomous Region, as it is known, means central and western Tibet. The east was incorporated into China on 1st September, 1965. This had been the aim of the People's Republic of China since soon after it was proclaimed in 1949.
The Chinese People's Liberation Army put down a rebellion of Tibetans demanding independence in 1959, which is when the Dalai Lama fled Tibet, when fighting reached its capital, Lhasa.
Tens of thousands of Tibetans were killed, as many going into exile, in their leader's footsteps. He sought safety in India. Thousands of Buddhist monasteries were destroyed in Beijing's attempt to crush Tibetan identity.
But Tibet remained restive, the Chinese authorities accusing the independence movement of stoking tensions periodically. In March 2008, peaceful protests by monks on the day marking the 1959 rebellion turned to violence in Lhasa and in northwest China's Gansu province.
Beijing accused the Dalai Lama of being behind protests on the eve of the Olympic Games in the Chinese capital, which he denied.
Self-immolation has long been a form of protest. Since 2011, more than 100 men and 24 women have set themselves ablaze. The latest woman to do so was just last week, reportedly after police and officials demolished her home.