Europe's markets claw back some ground after sell-off
Comments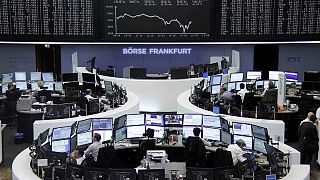 After what is being dubbed "Black Monday," there appeared to be a rosier Tuesday in store for the markets – in Europe at least.
Shares made gains after 450 billion euros was wiped off the value of leading stocks.
The pan-European FTSEurofirst 300 index, which slumped 5.4 percent on Monday, rose 1.8 percent, while the eurozone's blue-chip Euro STOXX 50 index advanced 1.9 percent.
Britain's FTSE 100 and Germany's DAX also bounced back from a five percent drop on Monday, to climb by 1.5 and 1.7 percent respectively.
Global financial markets have been rattled by China's devaluation of the yuan and a sell-off in the markets.
Stocks slumped in China again on Tuesday – by seven percent – to their lowest level since December.
Panic selling intensified after the Shanghai Composite Index crashed through the key support level of 3,000 points.