Critics round on Egypt's 'repressive' new anti-terror law
Comments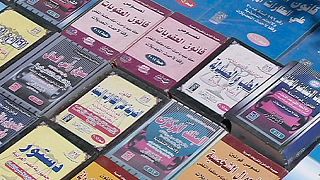 Critics of Egypt's new anti-terrorism law, fear it will be used to crush dissent and stifle press freedom.
The addition to the law books, introduced by decree by President al-Sisi, is intended to counter a two-year Islamist insurgency.
The law imposes the death penalty for anyone founding a group deemed by the government to be a "terrorist entity".
Financing "terrorist groups" brings a life sentence, which in Egypt means 25 years. Inciting violence will lead to 5-7 years in jail.
The new law also creates fast-track courts to try suspected militants, without specifying whether trials will be open or closed to the public.
It also protects law enforcers such as the military and the police from legal consequences if they use force.
Among other measures, journalists face large fines if they contradict official versions of terrorist attacks.
The original version prompted an outcry after stipulating imprisonment.
"The journalists' criticisms are legitimate, but on the other hand, the needs of the state for such laws to combat terrorist crimes are also legitimate and it has a right to introduce them," said Egyptian journalist Ayman Fayed.
Media analyst Omar Hosni was more sceptical. "Terrorism is defined using very wide terminology which could be used to impose restrictions on the media. The new law should have a clear definition of terrorism and not impose restrictions on freedom as is happening now," he said.
Sisi had promised a tougher system in July after a car bomb attack in Cairo that killed the chief public prosecutor.
Amnesty International has condemned the law, comparing the measures to those in force during the 30-year state of emergency under the Mubarak era.
The Arabic Network for Human Rights Information called on groups to push for the law's abolition, saying the media would effectively be "nationalised".
Euronews correspondent Mohammed Shaikhibrahim reported from Cairo: "Supporters consider this law to be a necessary measure specifically during this period to fight terrorist activities and to maintain the security of the country, while its critics are expressing their fear that media freedoms will be restricted and human rights compromised."