Indonesia: Trigana Air flight crashes over Papua
Comments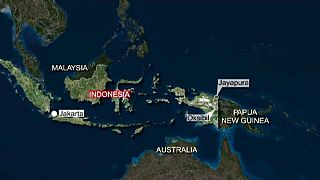 An Indonesian transport official has confirmed a missing Trigana Air aircraft has crashed in the Oktabe district of Papua province.
It had been carrying 54 people across the remote, heavily-forested region when it lost contact with air traffic control.
On board were 44 adults, five crew members and five children.
The Indonesian aircraft was flying between Jayapura and Oksibil, the capital of Papua province.
Air travel is commonly used as land travel is often impossible.
BREAKING Trigana Air flight #IL267 was carrying 44 adults, 5 crew members and 5 children http://t.co/oT7mIRBHjFpic.twitter.com/odRcB60vU3

— AirLive.net (@airlivenet) August 16, 2015
According to local media, a company official says villagers in the area reported the crash.
The National Search and Rescue Agency is coordinating the search and rescue efforts.
Blacklisted
According to the Aviation Safety Network's online database, prior to Sunday's crash (August 16), Trigana Air had had 14 serious incidents since beginning operations in 1991.
To date, ten of its aircraft have been written off.
Trigana has been blacklisted by the European Union since 2007. The EU can ban carriers from operating in European airspace if it has concerns about safety standards or about the regulatory environment in the airline's country of origin.