Greece: bailout approved but Syriza is divided
Comments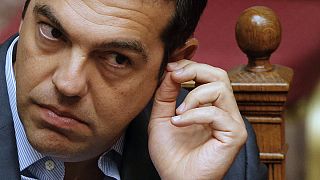 The Greek parliament has approved the details of the country's third multi-billion euro bailout by foreign creditors in five years.
We are heading for an election
It followed hours of intense debate and angry exchanges in the parliament in Athens overnight.
The 85 billion euro package passed easily with 222 votes in the 300-seat chamber, thanks to support from pro-European opposition parties.
But 43 Syriza lawmakers, nearly a third of the governing party, voted against or abstained – prompting talk of a government split and a vote of no-confidence.
#Greece approves bailout but Tsipras faces revolt: http://t.co/sSzgu65rkEpic.twitter.com/aC6Yb1oENV

—

POLITICO

Europe (@POLITICOEurope) 14 Août 2015
"Let's be honest," Prime Minister Alexis Tsipras told the chamber, "we either went for a bailout with the euro or a bailout with the drachma. That is what Germany's finance minister is still insisting on, he has suggested it again and again to stop this agreement from going through."
What's next?
Eurozone ministers will gather later on Friday to sign off the deal. It will then go to a vote in national parliaments.
Athens needs to pay the European Central Bank 3.2 billion euros before the 20th of August.
A fresh election?
Syriza deputy Gerasimos Balaouras was one of those who voted for the deal. "We are heading for an election," he told reporters, "it is clear there is a problem within the government. We can no longer rely on the unified support of our parliamentary group, even if we win the no-confidence vote.
Euronews correspondent in Greece Foteini Doulgkeri thinks the political developments will be swift, given the extent of the government loss during the vote. The possibility of early elections is even more likely now, while the consequences of the austerity measures are going to make themselves felt very soon.