Red Cross reunites lost refugee children with families in Rwanda
Comments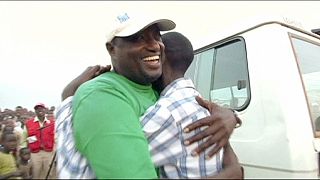 Thousands of people live in Rwanda's Mahama refugee camp. Most have fled deadly attacks and political turmoil in neighbouring Burundi.
Burundian Fredric Ngango, 57, became separated from one of his sons.
"I organised for my wife and children to come to Rwanda first, but my eldest son was left behind in Burundi because he was too sick to travel," explained Ngango. "I stayed behind to take care of him for a while there, but I had to join the rest of my family here, so I sent him to Gashora. While he was there, I approached the International Committee of the Red Cross."
As part of its initiative – Restoring Family Links, the International Committee of the Red Cross (ICRC) works in refugee camps around the world to help people far from home make contact with their relatives.
The ICRC also operates a mobile solar kiosk within this camp, where people can charge their phones for free.
"We put phones at their disposal, and then with the airtime that we buy from telecommunications companies, they can try to make contact by calling their loved ones. In addition, there are also unaccompanied minors that we register with the aim of reuniting them with their families, be it with family members or parents who stayed in Burundi, or those who are in refugee camps," said the ICRC's Ibrahim Dukuze.
The ICRC staff also help the children they've registered to make calls home or to other camps, to find out what happened to the rest of their family.
In Rwanda, 1,200 unaccompanied minors have registered so far with the ICRC in the hope of finding relatives, 41 have since been reunited with their families, while some 400 are back in contact with their families.
It didn't take long for the Red Cross to find Fredric's son. Once he was better, he was able to travel to the refugee camp to join his parents.