More than 50 dead in Kabul bomb attacks
Comments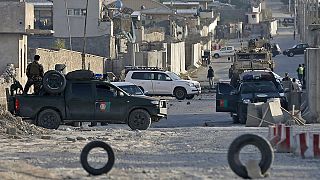 The NATO-led mission in Afghanistan says eight civilians have been killed, along with one of its service members, after a special forces base was attacked.
It is claimed that insurgents struck Camp Integrity in Kabul with a car bomb and then followed it up with gunfire.
No one has admitted launching the attack and it was not immediately clear if there was any damage to the NATO base.
NATO officials said authorities were still gathering information about the attack on the facility near Kabul airport.
It was part of a wave of bombings in the capital on Friday, which left more than 50 people dead and hundreds wounded.
At the Afghan police academy, dozens of police cadets and civilians were killed or injured in a suicide bomb blast.
A truck bomb also exploded in central Kabul, killing seven people and wounding around four hundred.
The war between the Western-backed government and the Taliban has intensified since the NATO combat mission ended last year and most foreign troops were pulled out.