At least six dead in Mali hotel attack
Comments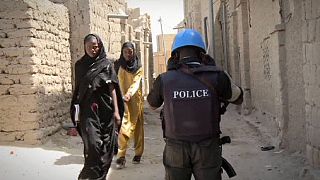 Suspected Islamic militants have attacked a hotel used by UN staff in central Mali killing at least six people.
The UN's peacekeeping mission in Mali, MINUSMA, has confirmed that one of its workers is among the dead.
According to military sources, several people have been taken hostage with reports that a Russian and a Ukrainian are among those being held captive inside the Byblos Hotel in the town of Sevare. South African and French citizens are also said to have been staying at the hotel.
Mali has been fighting Islamist militants for several years. A 2013 French-led military operation drove them out of areas they had seized a year earlier in Mali's desert north.
While the UN has managed to broker a peace agreement between the Malian government and ethnic Tuareg rebels, Islamist fighters not included in the negotiations have mounted a resurgence.