US election: Donald Trump takes centre stage in first Republican debate
Comments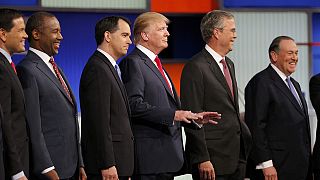 All eyes were on Donald Trump and he didn't disappoint.
The billionaire businessman refused to rule out running as an independent for the White House and bristled at questions about his attitudes to women – leaving rivals struggling for attention in Thursday's first Republican presidential debate.
He blasted the nuclear deal with Iran, which failed to secure the release of US prisoners jailed by Tehran.
"With Iran, we are making a deal, you would say: 'We want him…We want our prisoners. We want all these things and we don't get anything.'
"I'll tell you what, if Iran was a stock, you folks should go out and buy it right now because you'll quadruple… What is happening in Iran is a disgrace and it is going to lead to destruction in large portions of the world."
Despite the efforts of Trump, an early-frontrunner in the Republican race, no-one emerged the clear winner from the televised debate in Cleveland, Ohio.
Pundits however picked their favourites in the feisty showdown.
Who were the winners and losers in the Republican debate? http://t.co/ctlW0uWejopic.twitter.com/r98f2wX01v

— The Independent (@Independent) August 7, 2015
Jeb Bush said that, unlike his brother George W., he would not have invaded Iraq.
"Knowing what we know now, with faulty intelligence and not having security be the first priority when we invaded, it was a mistake. I wouldn't have gone in.
"Here's the lesson that we should take from this which relates to this whole subject. Barack Obama became president and he abandoned Iraq. He left and when he left al Qaeda was done for. ISIS was created because of the void that we left."
In all, a record 17 hopefuls are vying to mount the Republican challenge – that could well be against Democrat Hillary Clinton – in the US presidential election of November 2016.