IOC set to vote between Beijing or Almaty to host 2022 Winter Olympics
Comments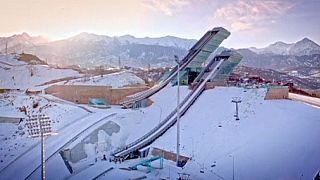 The International Olympic Committee on Friday will decide who will host the 2022 Winter Games at the 128th IOC session in Kuala Lumpur, Malaysia.
The two candidates in the running are the Chinese capital Beijing and Kazakhstan's largest city Almaty.
Almaty's bid boasts a compact layout for the venues, leading to short travel times for the thousands of Olympic athletes and spectators.
It's the first time Almaty has reached the final of the bidding process following a failed attempt in the early stages to land the 2014 Games.
It has limited experience in hosting major international sports events making it the underdog.
But as the promotional clip is proud to highlight, the city boasts a traditional winter surrounding with spectacular mountains and plenty of real snow.
Something that Beijing cannot boast although the Chinese capital's bid committee says it has all the equipment needed to adequately provide the artificial white stuff.
If chosen Beijing will become the first city to host both the Summer and Winter Olympics after staging the 2008 summer games.
Beijing has been marketed as the experienced choice, having hosted more than 40 major international sports events in the past decade, according to organizers.
A self proclaimed 'reliable bid'.
Two very different bids, although the only thing the two countries appear to have in common is a dire track record when it comes to human rights, which has led some to claim that no matter which city wins, the Olympic movement loses.