"Arrivo Berlin" - a project in Berlin training migrants to prepare for work
Comments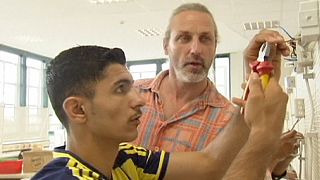 A common political policy has been hammered out between UK Home Secretary Theresa May and French Interior Minister Bernard Cazeneuve in a bid to end the crisis created at the Channel Tunnel by migrants trying to reach England illegally.
The chaos at Calais, creating severe disruption at peak holiday time in and around southern English ports prompted one newspaper headline, "Send in the Army". The local economy is hemorrhaging around 1.5 million euros per day. The political solution is somewhat different.
"We have agreed today that we will work together to return migrants, particularly to West Africa, to ensure that people see that making this journey does not lead to them coming to Europe and being able to settle in Europe," Theresa May told reporters.
"Seventy percent of people who tried to enter the European Union, from the beginning of 2015 are irregular economic migrants. They do not have the right to stay in Europe," added French Interior Minister Bernard Cazeneuve.
Creating the conditions for migrants to stay in Europe and earn a living is the aim of an initiative in Berlin – set up by the municipality and the city's chamber of commerce.
Called "Arrivo Berlin" it aims to train people who have fled their countries in skills which they can subsequently use to secure long-term employment. In a country with an ageing population and a city with a lack of skilled workers the project can work both ways. But for the migrants there are no guarantees. The project manager is Anton Schunemann.
"The biggest problem is that if you go into training or have a contract for work, then that does not stop you from being deported. This means that Germany is still prepared to deport a tax payer from this country, because they think that the person will be better off in their country of origin.
'And that of course is a big problem that the economy has which is why they want secure conditions. Because it is totally logical – if a company trains someone then they are investing in that person," he said.
Tahir Osman Mohammad fled from Chad in 2012 and then after a time in Libya crossed the Mediterannean and on his arrival in Germany asked for asylum. The 25-year-old is on the training scheme to learn a trade as an electrician in the hope of remaining in Germany.
"It's not easy but I want to learn, to carry on. I hope I will have a job next year or the year after," he explained.
Arrivo Berlin believes the project provides a solution in which everyone is a winner. For they say they are training people for the future, migrants who are highly motivated and who want to create and live in a new home in Germany.