Violence reported in Yemen despite humanitarian truce
Comments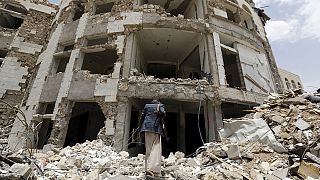 Amid reports that Yemen's truce has now descended into violence, victims of Saturday's Saudi-led airstrike in Taiz are taking stock of the damage from an attack that left at least 80 people dead.
The airstrike in the central city preceded the ceasefire now said to have been breached by both the Saudi-led coalition of Arab states and Yemen's Houthi rebels.
"They killed women and children, the elderly and young," said one dismayed resident of the devastated Moka district.
"How is this the fault of these innocent people? There are no Houthis here and no military bases. There is nothing here."
The coalition has been bombarding Houthi forces in Yemen since March in efforts to reinstate President Abd Rabbu Mansour Hadi who has fled to Riyadh.
With the Houthis now driven out of Aden, Saudi Arabia has been flying in humanitarian aid including medical supplies for cancer patients in the southern port city.