Hungary opposition condemns PM Orbán's link between migrants and terrorism
Comments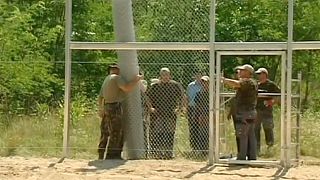 Hungary's prime minister has said there is a clear link between illegal migrants entering Europe and the threat of terrorism.
As the country continues to build its controversial border fence with Serbia, Viktor Orbán sought to justify his government's tough stance on immigration.
In an annual speech in Romania where he traditionally outlines his political vision, the prime minister said illegal immigration had contributed to a rise in unemployment and crime in Western countries.
He criticised European Union policies for not being robust enough to defend people from the threats posed by rising immigration.
And he went further:
"There is a clear link between illegal migrants coming to Europe and the spread of terrorism," Orbán said. "Interestingly it is obvious in the Anglo-Saxon countries, but others deny it. Recently an American leading security official said in Hungary that the relationship between these two factors is obvious. It is obvious that we simply cannot filter out hostile terrorists from this enormous crowd."
PM #Orban sees scary future for Europe. Full story via otmarianna</a> <a href="https://twitter.com/sulajancso">sulajancsohttp://t.co/oYtoNSthP2pic.twitter.com/u2y7U3GSTN

— MH (@MHEnglishNews) July 25, 2015
The fence along the 175-kilometre border with Serbia would be finished by the end of August, much earlier than forecast, Orbán said.
The number of migrants entering Hungary has soared: 80,000 have been registered this year, nearly double the figure for the whole of 2014.
Many come via the Balkans, attracted to the EU's Schengen zone of which Hungary forms a part.
Most are said to come from poor or conflict-ridden countries such as Afghanistan, Iraq and Syria.
Orbán, whose governing Fidesz party is under threat from the far right Jobbik party, added that what he called the West's "human rights fundamentalism" provided moral encouragement to migrants.
Opposition parties in Hungary reportedly condemned his remarks.
Leftist party Egyutt accused Orbán of failing to represent European values while favouring "a disintegrating European Union".
The Liberal party MLP was quoted as saying that his comments linking people fleeing wars with terrorism and crime were "extremist and hate-mongering".
Writing before Orbán's latest speech, the refugee campaign group Migszol Csoport claimed the prime minister's 'xenophobic speeches' inspired violent hate crime against migrants.
The conservative Hungarian newspaper Magyar Hírlap published a list of wholly favourable reaction to Orbán's speech on social media.